Catering
At Aldborough we have a brand new kitchen in which lunches are cooked fresh daily, providing nutritionally balanced food and a varied menu. We tailor our menus to the students' needs and continue to discuss menu options with them. Our three weekly lunch menu cycle includes:
meat (halal) or fish
vegetarian choices
salad bar
variety of desserts both hot and chilled
At lunchtime we offer a variety of meal deals, that incorporate a variety of dishes and can include a drink or dessert of the day. The meal deal costs children £2.25.
As your children spend much of their time in school, they need nutritious food for long-term good health. A healthy, balanced diet also helps your child learn in the classroom and leads to improved educational outcomes.
According to World Health Organisation, nearly one-fifth of the world's children and youth are overweight or obese. In the UK we are seeing a steady increase of overweight children. We need to start raising awareness of this issue when children are young so that they will learn to eat healthy very early on, because habits are set in childhood. They are capable of understanding the effects of food on the body and make smart choices about nutritious foods.
Visit the World Health OrganisationHere at Aldborough we aim to support students making healthy choices. Students on free school meals are strongly encouraged to take the main meal of the day. Meals are freshly cooked each day using seasonal ingredients offering a varied menu of family favourites along with one off days where students are encouraged to try something new.
About our Caterers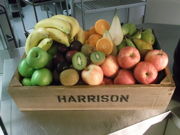 The catering service at our school is provided by Harrison Catering Services.
Since its founding in 1994, Harrison has always been about quality fresh food prepared on-site and served by people who love what they do. Over 100 clients across the UK enjoy a Harrison foodservice, with more than 100,000 meals being served each day by approximately 2,000 staff across more than 270 locations.
Harrison understands that what children eat affects their health and their ability to learn and perform in the classroom. At the school, our catering team provides nutritious, balanced meals, and we work to educate the pupils on how to make healthier food choices. Our goal is to instil a love and understanding of fresh, healthy food at a young age that will positively influence them throughout life.
All Harrison staff receive training in how to prepare and serve healthier food through the company's bespoke Eat Well Live Well© training programme.
GDPR
A new set of regulations comes into force on 25 May 2018 called the General Data Protection Regulation ("GDPR"). This is an important piece of legislation that is designed to provide greater protection for individuals when their personal data is being processed or stored.
In the course of providing school meals to pupils and staff there is a need for the school to share relevant personal data with the caterer, Harrison Catering Services Ltd, including [pupil name, class, and dietary requirements]. This data sharing represents a legitimate interest in terms of the GDPR and we can confirm that Harrison Catering Services is required to comply with the new regulations in the processing of the personal data.